Explore 350 km of South of Scotland
Countryside Trails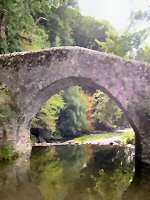 This enticing 350km network of quiet off-road routes for horse-riders, walkers and cyclists links to many other paths including the Pennine Bridleway, Border County Ride and other long distance routes. Short, sheltered circular riding paths around Peebles, Innerleithen and West Linton contrast with more challenging longer distance and remote hill tracks such as the Cheviot network, the Bloody Bush link to Kielder and the linear route between Moffat and Hawick.
Click here for Overview Map

The South of Scotland has a rich heritage of old drove and Roman roads, disused railways, pedlar's paths, forest and other tracks. Over the years, many of these once critical routes have become impassable. Through this exciting project, the sound of marching feet and horses' hooves will once again be heard on routes used hundreds of years ago by Roman armies, cattle drovers and the Reivers. Follow in the footsteps and hoofprints of those who have gone before!